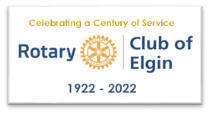 Rotary Youth Leadership Awards, or RYLA for short, is an all-expense paid weekend of
training, leadership, and bonding experiences for high school students.
It takes place at the YMCA Camp Edwards in East Troy, Wisconsin. Students have three sessions to choose from:
Nov 30-Dec 3. March 9-10. April 4-7.
Students from the following schools are eligible to apply:
Central HS(Burlington)
Elgin Academy
Elgin HS
South Elgin HS
Larkin HS
Harvest Christian Academy
St. Edwards Catholic HS
Westminster Christian
There is a selection process. Please turn in your applications as soon as possible.
The Rotary Clubs of Elgin (Noon and Breakfast) work together to cover the $400 cost for as many students as we can.
Info (use back arrow to return to this page):
Questions can be directed to: ElginRotary@gmail.com
Please include your contact information – name, email, phone number.
After January 15, 2023, please visit www.rotary5000.org/scholarship.htm for information on other scholarships being offered by the Rotary Club of Elgin (Noon)
www.RotaryClubofElgin.org -- https://portal.clubrunner.ca/2030 (Elgin Breakfast)